---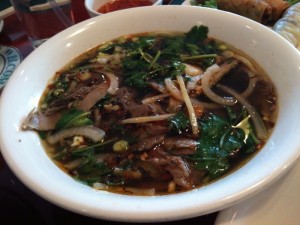 Little Saigon, a typical Vietnamese restaurant located on Colonial Drive in Orlando was one of our first stops right after deplaning in Orlando. It was a recommended place from someone who visited the area frequently and liked Vietnamese food. What a better way to start the trip than a bowl of pho.
Ok, well I didn't order the pho but my kids and my husband did.I ordered a bowl of bun bo hue, the next best thing.The pho was good and had enough flavor.The place is worth coming back to should we ever revisit the area and want a decent bowl of pho.The bun bo hue had a good deep flavor and was one of the better ones I have ever had.
We would've gone back to this place except it's always nice to try different places so few days later we went back to the area and tried Anh Hong.It seemed to be a more "authentic" by looking at the menu and the clientele that walked through the doors– more Asians than at Little Saigon. This time I ordered the seafood hu tieu with glass noodles.The dish looked so inviting when it came to the table. It tasted exactly how hu tieu should, a hint of seafood taste with a rich and flavorful broth enhanced by the Chinese chives and mint leaves that was abundant in the dish. Some people don't realize how much condiments can make or break a soup dish.If you haven't tried, eating pho without mint leaves is not the same. Though I'm sure there are people out there who don't really care for mint leaves or condiments.To those people, you are really missing out.
As for the pho, one of the other family members ordered it and it also looked really good.It looked and smelled better than at Little Saigon.I took a taste and the broth did taste better.Even though the pho was decent at Little Saigon, the pho here had a stronger flavor. If I had to choose between the two places after trying both, I would definitely pick Anh Hoang.
Ate at Little Saigon and Anh Hong (Orlando)